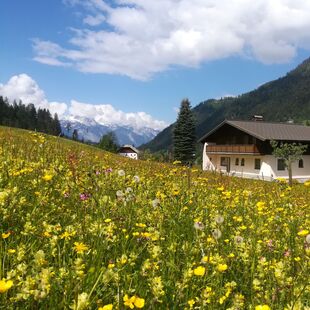 Vacation home with garden
in the middle of Salzburg's mountains
Our serenely located holiday home with its beautiful garden overwhelms with it's ideal location: a free view of the surrounding meadows and forests as well as a grandiose view of the mountain world of Salzburg! Time to turn off, relax and pull back into the Schneckenhaus. Here, you will find peace and quiet in the middle of nature, and repose from hectic everyday life. Find calm in the simple things near you, like lighting a fire in the chimney, reading a book in the hammock and cooking with the fresh ingredients from the garden… that is a holiday at a snail's pace.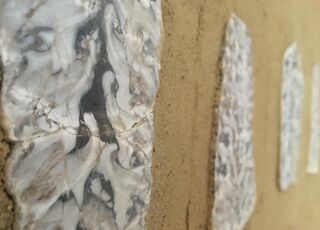 Holiday in a feel-good climate
Our apartment house has been renovated with high quality materials from nature. Real oak floors, wooden windows and clay walls shape the cozy rooms. Particularly the beautiful wooden elements and the famous snail stones - fossils from Russbach - have been implemented with a lot of love. Local pine wood supports your sleep in the bedrooms. The heated clay walls ensure a comfortable climate to enjoy on your holiday.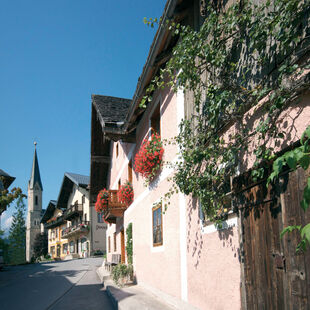 Skiing and Hiking village
between Salzburg and the Salzkammergut
From our holiday home, you have a perfect view of Russbach, the village in Salzburg. Only 300 meters away a nature bath, a water park for children, a Kneipp facility, and a canoe route await you. There is a fossil museum and a bible- and scent garden next to the church. From there, you can also start your alpine pasture hikes, summit tours and e-bike tours. For children, there is Bruno's mountain world and the ghost forest, or you can go look for fossils yourself in Russbach's streams. Within an hour from the house, you can reach countless attractions: mountain- and bathing lakes, waterfalls, caves, the Mozart and Festival city Salzburg, the historic town Hallstatt and the emperor's city Bad Ischl.
sustainability in your holiday home
During the renovation of the Schneckenhaus, we not only put effort into creating an enjoyable room climate, but also made sure to use sustainable techniques and materials. The energy of the house is provided through a solar thermal system on the roof, and from a traditional fireplace. Additionally, the connection to the neighboring house supplies the house with heat from wood pellets. The distribution takes place via a modern wall heating system in the clay walls. For floors, windows and most interior decoration, wood was used. The bed sheets and towels were produced sustainably and organically. The cleaning is done with environmentally friendly and pollutant-free cleaning agents. We enable you to sort your waste as usual, even on vacation.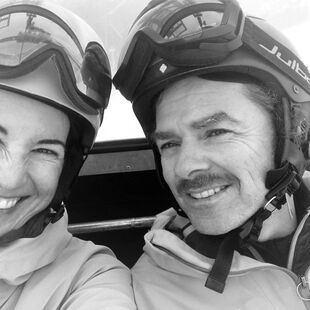 Hosts & Ski teachers
A warm welcome from us, Eva and Norbert Höll. We are your hosts and we also run Skischule Höll. In ski- and snowboarding lessons, we are more than happy to show you how to effortlessly glide down the slopes and guide you when enjoying freeriding or doing ski tours. If you have any questions about winter sports, we will gladly advise you. As enthusiastic hikers, mountaineers, climbers and mountain bikes, we can also help you find the right tour for the perfect day in summer. On top of that, we are looking forward to be able to greet you as neighbors, since we live in the house next door.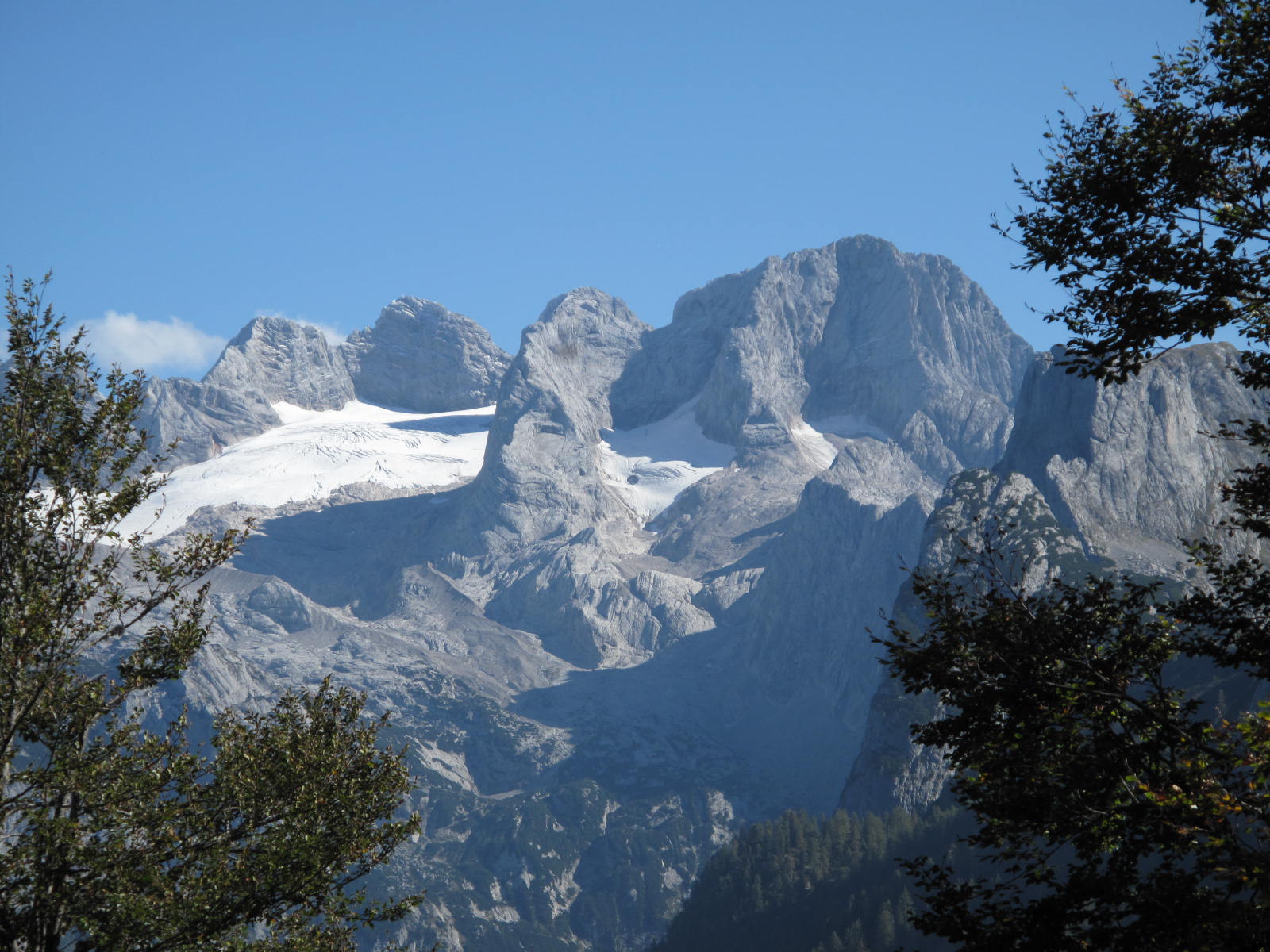 Apartments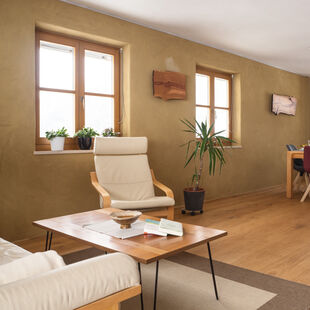 Apartment Acteonella
86 m² - for 4 - 5 people
This spacious 86 m² apartment on the ground floor has two bedrooms: one is equipped with a double bed, the other the beds can be separated on option. The Bathroom has a large bathtub and shower, the toilet is extra. A large tiled fireplace warms the bright and spacious living room. A well equipped kitchen and a large dining table find space right next to a comfortable seating area and an additional bed. From the living room you can go directly to the surrounding garden with cozy seating areas and a barbecuespot.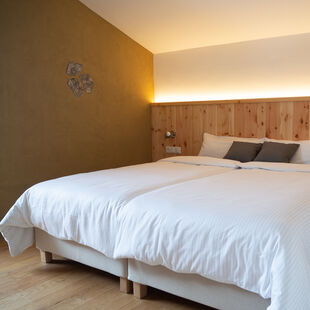 Apartment Nerinea
43 m² - for 2 -3 people
Our two Nerinea apartments on the first floor offer a spacious kitchen room with a comfortable couch. From the large balcony you have a wonderful view of the extensive meadow and forest landscape. Bathroom and toilet are in one room. The bedrooms with pine wood and balcony overlook the skiing and hiking village of Russbach.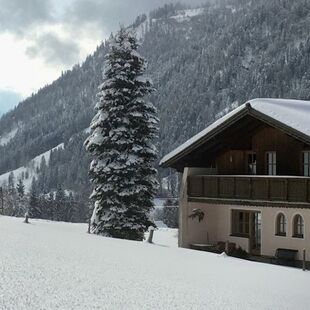 Schneckenhaus exclusive
172 m² - up to 10 people
With "Schneckenhaus exclusive", you book all 3 apartments (Acteonella, Nerinea east and Nerinea west) and you have the whole house to yourself. In the center, there is a spacious living room with a well equipped kitchen, chimney, and a big dinner table. In the 4 bedrooms, 3 bathrooms and 3 kitchens, a maximum of 10 people find plenty of space to relax.
Schneckenhaus summer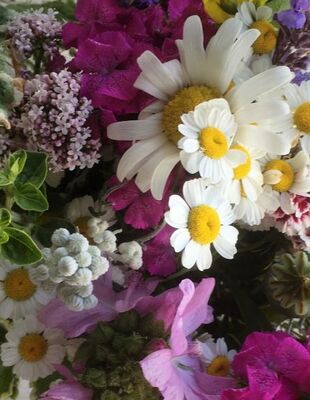 In the garden
find your favorite spot
Depending on the season, herbs, lettuce and berries can be harvested. A small, lockable area with a natural pond invites you to swim & cool down. How about a little Campfire in our brazier? A little "hanging out" in the hammock? Children can play table tennis right next to the house or try out our toy vehicles. Browse through our games and books corner, since you won't find entertainment electronics like flat screen TVs and the like in our house! Of course, in case you need to check your emails, fast WiFi is still available in all rooms.
Hiking starts at the front door!
You might find a special treasure
We love the mountains in our region and would like to bring this treasure closer to you. As a certified hiking host, we offer everything you need for your mountain experience.
We (Eva and Norbert) are certified hiking guides and will be happy to help you plan your tour.

The best routes can be found in the tour portal.

Hiking guides, maps and lots of information about hiking in the Dachstein West region await you in our hiking library.

Backpacks, hiking poles, snowshoes and other hiking equipment can be borrowed free of charge.

The starting point and the shoe washing station are in front of the door, the drying room for wet equipment is in the basement.


We will also show you where you can find fossils and will be happy to accompany you to one of our fossil rivers if you wish.
What's included:
a garden with herbs, salads and berries depending on the season
natural pond, barbecue area and children's play equipment around the house
pure nature: unobstructed view of meadows, forests and mountains
Mountain knowledge: Eva and Norbert are enthusiastic mountaineers, mountain bikers and climbers, and will be happy to advise you
sustainability: ecological materials, climate-neutral energy supply and environmentally friendly cleaining
TennengauPlus-Card: free access to the water park, reduced price for runs with the Hornbahn Rußbach, free local public transport, ...
starter pack of coffeee and tea specialties
included anyway: WiFi,

sustainably & organically produced bed linen and towels, hair dryer, bike storage room, shoe drying room, parking lot right by the house
What we don't offer:
Flat screen TV and entertainment technology, instead we have a book and games corner
Small chemical plastic bottles in the bathroom, but there are handmade organic soaps
Air conditioning, but you can expect fresh mountain air even in summer
Schneckenhaus winter
Quickly to the slopes!
The ski bus stops 250 m away, but you can also walk to the Dachstein West ski region in about 10-15 minutes. At the Hornbahn Russbach (the ski lift's building) there is a ski and boot storage available free of charge. You will also find the ski school office and ski rental here and the lift ticket offices. Your hosts, Eva and Norbert Höll, are also the owners of the ski school Russbach and will be happy to advise you on all matters relating to snow sports. Russbach doesn't just offer the best entry point and the most beautiful valley run in the Dachstein West ski region, but also the starting point for great ski and snowboard tours, winter hikes or Snowshoe tours. The cross-country ski runs of Gosau are 5 km away, a toboggan run with cable car is available in Abtenau (12 km).
What's included:
free ski and boot depot directly in the bottom station of the Hornbahn Russbach (cable car)

free local ski bus that stops 250m from the house

pure nature: unobstructed view of the snow-covered meadows, forests and mountains

Bobs and sleighs for kids to romp around in the snow

Mountain knowledge: We are enthusiastic skiers, snowboarders and ski tourers and will share our advice with you gladly.

Included: WiFi, sustainably & organically produced bed linen and towels, hair dryer, bike storage room, shoe drying room, parking lot right by the house
What isn't included:
Flat screen TV and entertainment technology, instead we have a book and games corner

Small chemical plastic bottles in the bathroom, but there are handmade organic soaps

Ski lessons - but if you need some, you'll get 10% discount in our Skischule Höll
information
prices
Price per day per apartment. All prices exclusive local tax EUR 2,00 per person/night, children up to 14.9 years are free. 30% deposit for fixation of reservation within 10 days, free cancellation up to 30 days before the start of the holiday, all statements without guarantee.
summer 2023
Acteonella

(1 - 4 people)

(5 people)

Nerinea

(1 - 2 people)

(3 people)

Schneckenhaus exclusive

(1 - 8 people)

(9 - 10 people)

low-season

130,-

150,-

82,-

102,-

294,-

314,- to 334,-

main-season

172,-

192,-

103,-

123,-

378,-

398,- to 418,-

final cleaning

100,-
60,-
220,-

low-season: 14.05. - 30.06.2023 and 09.09. - 30.11.2023;
main-season: 01. 07. - 08.09.2023
winter 2023/24
Acteonella

(1 - 4 people)

(5 people)

Nerinea

(1 - 2 people)

(3 people)

Schneckenhaus exklusiv

(1 - 8 people)

(9 - 10 people)

low-season

140,-

160,-

82,-

102,-

304,-

324,- to 344,-

mid-season

172,-

192,-

105,-

125,-

382,-

402,- to 422,-

main-season

220,-

240,-

142,-

162,-

504,-

524,- to 544,-

peak-season

240,-

260,-

162,-

182,-

564,-

584,- to 604,-

final cleaning

100,-
60,-
220,-

low-season: 01.12. - 22.12.2023 and 02.04. - 30.04.2024
mid-season: 06.01. - 02.02.2024 and 24.02. - 01.04.2024
main-season: 23.12.2023 - 05.01.2024, 03.02. - 09.02. and 17. - 23.02.2024
peak season: 10. - 16.02.2024